"Hot Off The Press"
Read the full report in "HARLYN BURIAL SITE"
The Museum has just received new identifications of the skulls, they have been corroborated by scientific (radiocarbon) dating of the jaw bones (mandibles) that she commissioned in-part with funding from the Cornwall Archaeological Society. Skull 2019.17 (image 9) dates to the 1st century BCE- 1st century CE (Late Iron Age) while 2019.18 (image 8) dates to 5th century CE- 7th century CE (Early Medieval).Jordan has also conducted updated skeletal analyses and determined that both individuals were women between the ages of 35-50 years old.
_____________________________
Winners at the Cornwall Heritage Awards 2019 - >> view here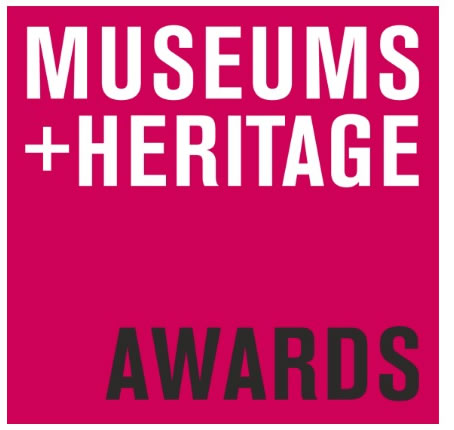 _____________________________

We would like to convey our thanks to all those who have supported us especially our band of volunteers
The New Museum opened on 8 October 2018 at the new premises adjacent to the coach park on South Quay Padstow.
The official opening took place on 29 November the opening ceremony was performed by Jill Crowley, cousin of the late Rev Barry Kinsmen, Bard.  Barry became bard of the Cornish Gorsedd "Bugel Petrok", he was a great supporter of the Museum having been involved from the 1970s, he was a passionate historian in regards to all matters associated with Padstow.
It was by his generosity, and a bequest to the museum that we were able to achieve this long awaited move of venue.
The ceremony was attended by almost 100 invited persons who have connections with the museum or had been active in the presentation of the new Museum.
We were please to welcome a party of children from the local school.
The town council chamber was made available to us for the reception of our visitors, for this we extend our grateful thanks to the PTC.
Following the opening many of those who attended the ceremony took a tour of the museum.
We now look forward to the 2019 season and welcoming many new friends and visitors.as a result of the new venue and the publicity it has attracted, we now have a number of new volunteer helpers, enabling us to double up on our reception facilities.
as a result of our move we have many improvements, firstly we have full disability access, with hearing loop facilities for the deaf impaired, also interactive displays and as an added bonus we now have security camera facilities

July 2019
During the period since we opened we have had a footfall in excess of 16,000 Adults & 2,500 children,
We have been pleased to welcome visitors from many countries across the world, for example Canada, USA, Finland, Norway, the Orient as far as Australia and New Zealand.
Our visitor book is a glowing testimony to our efforts.
We continue to get requests for information on a range of subject matter.
A most satifactory start to the beginning of a new chapter in the museum's history.
Thank you all




Object Research
Please find below some images of artefacts that we hold and on which we would like more information.
If you can help please email us at enquiries@padstowmuseum.co.uk
These came from the roof space of a cottage in Port Isaac, they could be 100 years old. There are obvious markings - PL crudely scratched in and numbers stamped clearly on one boot and some numbers less so on the other. Could 1916 be a date ? age solved if that is the case. Could be linked to WW 1 - plenty of all kinds of boots in circulation during and after the war. Now we share pictures and see if anyone comes up with the answers.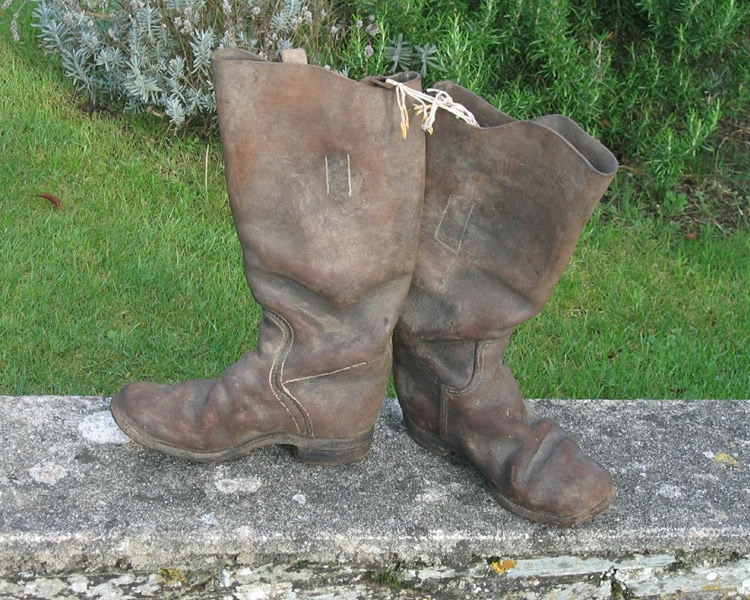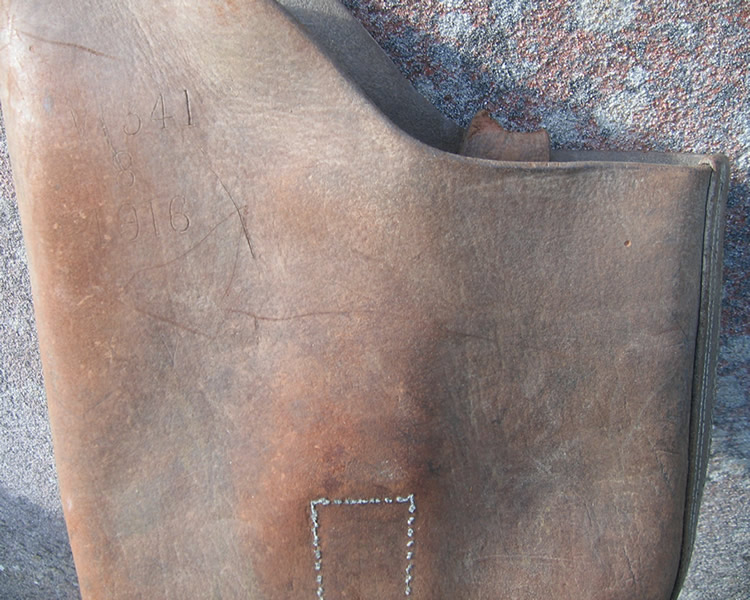 This item was found on the foreshore at Harlyn Bay recently. We are unsure as to what it is, it is made a soft metal not Brass,bronze or aluminium,possibility it could be pewter or other metal. It was considered to be a bell of some sort, heavily encrusted with concretion having been in salt laden sand for some considerable time. It is a flattened dome shape and contained a clapper. The Cross emblazoned on it would suggest it has a religious connotation. Suggestion would be welcome.