Father Lost At Sea
Padstow's Parish records go back to 1599 and can be viewed on the Cornwall Online Parish Clerk website. Many of Padstow's family trees are mentioned on St Issey Folk. This page looks at parish orphans.
Reproduced from Issue 136 Echo Christmas 2007 
FATHER LOST AT SEA
Thanks to help given by members of The London Cornish Association to Cornwall Family History Society information regarding children from Cornwall sent to the sombre sounding Snaresbrook Merchant Seamen's Orphan Asylum in Essex has been published.  We print the names of those boys and girls from Padstow on this list with some additional information known to us.
We begin with a quote from The Western Morning News published on 30th September 1890 a copy of which item is held in Padstow Museum.
FANCY FAIR AT PADSTOW
Held at Sanders Hill Lawn to raise funds for the Asylum where 'during the last 14 or 15 years about 16 children have found a home'.  This was a grand affair with stalls of various kinds run by the great and the good of Padstow Victorian society.
Although called a Orphan Asylum it was for children who had lost a father at sea and the mother left at home, who had lost her husband, faced the prospect of sending her children what was in those days a very long way away.  The hope was that they would receive education and training to set them up in adult life.
 Nearly a quarter of these Cornish names were from Padstow and begins in 1867 with the name of WILLIAM BEATT  who's father James was a ships carpenter. We know that this was a result of the tragic circumstances surrounding the loss of the JANE LOWDEN in mid-atlantic when returning from Quebec with timber. All the crew save the Captain John Casey perished in this event.  Next on the list is a girl.
1870        CLARA BLIGHT                          father Richard a Mate. (See recent information further down this page) 
1873        MARY OLD                               father Richard a Captain 
1874        PHILLIPPA MORRIS                  father Charles a Captain 
1876        GEORGE HARDING                   father Samuel a Captain 
1876        WILLIAM BROWN                     father Adolphus a Mate 
1879        THOMAS KNIGHT                     father John a Mate 
1880        ARTHUR BROWN                      father Adolphus a Mate 
1880        JOHN FRENCH                         father Samuel a Pilot 
1885        CAROLINE MENHENIOT        father George a Mate
1887        EDWIN BENNETT                    father Edwin a Captain 
1888        ALFRED LANGFORD               father Thomas a Boatswain 
1888        THOMAS LANGFORD             father Thomas a Boatswain 
1890        SARAH SLAWSON                   father Thomas a seaman 
1891         BERNHARD HAWKEN            father Thomas a Mate 
1891         WILLIAM CURROW                father Thomas a Seaman 
1893        JOSHUA LANGFORD              father Thomas a Boatswain 
1894        WILLIAM BILLING                 father William a Mate 
1895        SAMUEL NILES                      father William a Mate 
1896        JOHN ELLERY                       father William a Carpenter 
1898        RICHARD BRICKWOOD        father Isaac a Captain 
1899        OSBORNE ELLERY                 father William a Carpenter 
1901         SAMUEL BRICKWOOD         father Isaac a Captain 
1906        EDWARD LAWREY                father Edward a Mate 
1908        DANIEL LAWREY                   father Edward a Mate
There are several sets of brothers on this list including three from the Langford family.  Mike Huntley is interested in them as he is linked to them through the mothers family line as Eliza Langford had been a Rawe as was Mike's mum.  He tells me that Thomas a Bosun and the father to all three boys, died on passage from Bombay and was the son of an earlier Thomas who was drowned when the sail barge 'Ceres' was wrecked near to Pentire.
In the Census records for 1881 the 30 year old Thomas is running the 'Ring O' Bells Pub at St Issey with Eliza who is aged 30.  the family consisted of ALFRED GRAY LANGFORD aged 3, Eliza 1 and THOMAS ROBERT LANGFORD 11 months. A third son JOSHUA LANGFORD was born later and would be sent to Snaresbrook five years after his older siblings.  In the Census for 1891 he is still at home in Horsemill Lane Padstow (now lower end of St Edmund's Lane), with his mother and two sisters he was then aged 3.
What persuaded Thomas to go to sea with such fateful consequences, is not clear.  Mike would dearly like to solve that question.    
Alf and Tom Langford are pictured later in life in the Volunteer Artillery Band of 1907 and we know that Alf married Ethel Mary Harding daughter of Padstow Headmaster 'Boss' Harding.  Their daughter Mrs Peggy Blewett was well known in the town until her death last year.  
It would appear from the support given to the Fancy Fair that these places were seen in a positive light.  This may not have always been the case but we can judge from the career of at least one of them that it could lead to the very top of the ladder.
In 1880 when JOHN FRENCH was sent to Snaresbrook his father had been dead for almost 9 years.  John was the youngest of the 10 children of SAMUEL and Jane FRENCH who was a Trinity House Pilot.  He was lost when a ship collided at the mouth of the estuary. His slate gravestone stands beside the path below Padstow Church Tower entrance.
 It is hard to imagine how Jane must have felt at the age of 37 to be left alone, to bring up her large family, even given the four eldest were over twelve and would be considered of working age in those days. Hard times indeed.  We must believe the Census for 1871 in which six adult lodgers are also in the household.
  Seven of the children were boys and three girls.  One of the boys Orson, would in adult life feature in the tragic loss of the James Stevens No 4 Lifeboat where he was one of three survivors. Arms folded across his chest he looks us straight in the eye in the picture published in Brian French's (no relation) new book.  
EDWARD LAWREY or to give his full name EDWARD NOEL THOMAS LAWREY was the eldest son of Edward (Ned) Lawrey who was Mate on the William Hutchings owned, Padstow registered Ketch 'CBKF'.  Ned was drowned when she was in collision with the Bristol Steamer 
TASSO bound from Par to Liverpool with Clay in June 1906.  The Captain Robert Chapman from Padstow managed to swim to the Steamer and was taken on board.  The third hand who was from Southampton was also drowned.
Ned had been brought up in Newquay where his father, who had returned from the Australian Gold Rush, had hoped to set his son's up in the Hotel trade.  Ned would have none of this and ran off to sea. He married Padstow widow Annie Kitto formerly Daniel and had three sons at the time of his untimely end.
I never new my mother's Aunt Annie (she was my grandmother Hornabrook's sister) but heard some of the stories about her and Echo readers may recognise the anecdotes related by Molly Pinch in earlier additions about her mother in laws sister, as they were one and the same.  Jess Daniel was married to Fred Pinch Snr. In one story she is dared by Ironmonger Tom Derrick to walk up Duke Street carrying two chamber pots. She did, and according to Molly got the pots for free.
Annie could not bear to send all three boys away and kept one at home.  The eldest Noel took to the life of a junior Merchant Navy Officer and surviving several torpedo attacks in World War 1 became a Captain of The Port Line during World War 2 bring supplies in from Australia and New Zealand.  He would ultimately become the Commodore of that Line.
The dangers of living in Plymouth in 1939 were all too apparent and my uncle Noel sent his wife and daughter Jill 'home' to Padstow where they lived in 16 Treverbyn Rd along with his wife's sister Auntie Mable.  They were in the thick of fund raising for the war effort and in 1946 when we had moved up near them to No 12 we shared Christmas Dinner, which included what seemed to me an enormous Turkey and other goodies not seen in Britain for many years.  The family returned to Crownhill but Noel would make regular visits to his old home to look up his relatives.
His brother DANIEL who went to Snaresbrook two years after him also went to sea but failed the necessary exams to gain promotion and later left the service. 
Just a list of names but each with a story to tell.  Thanks to Cornwall Family History Society for providing the incentive. 
 -  John Buckingham.
"I see on your website showing families of those lost at sea, the first name is Clara Blight.
Clara was a first cousin of my grandmother. Her father Richard was not actually lost at sea but died at 24 Mount Street, Stoke Damerel, on the 11th January 1864, aged 39. The cause of death on his death certificate was 'Rheumatism and Pleurisy'. He was shown as a Merchant Seaman, and his address was the Schooner Volunteer. He left a widow, Jane, formerly Jane Brenton from Padstow who survived until 1910. They had 8 children, Clara being the youngest. I have a photograph of Richard and Jane and their 6 eldest children which is very old and must date from the late 1850s. Some of the family moved to South Wales which I believe was quite common for Padstow folks, but some descendants remain in this area. Also two of Richards sons settled in Plymouth, one being a Ships Chandler, and one a grocer. Richard's father was also a Richard of Padstow and died at Cardiff in 1839, leaving 10 children. His death certificate simply says 'Drowned'. A number of the family were lost at sea. Clara Blight seems to have done OK in life and was a school teacher and married Thomas Job Bennetto, a schoolmaster, from Mevagissey, at Padstow in 1884. She was born 3rd November 1860 and died in 1936.
My great grandmother was Susan Blight, an aunt to Clara. She was born in Snaresboroo k Seaman's Orphanage
Padstow in 1835 and died in High Street, Padstow in 1917. Her mother was from Scotland, brought to Cornwall by Richard after marrying her when he was in port at Ayr!
I thought these details might be of interest to you at the Museum.  Regards John James"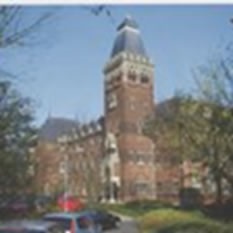 Snaresbrook Seaman's Orphanage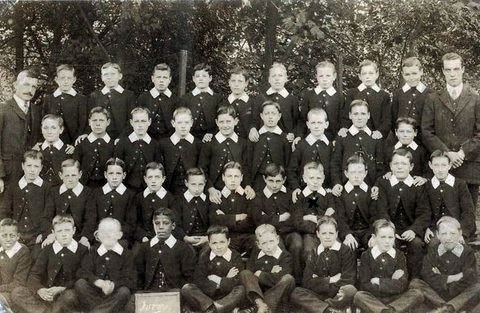 Class of trainees at Snaresbrook. Edward Noel Row 3 down, 9th from the left

Later picture of officers & crew of SS Port Victor of which Noel was Captain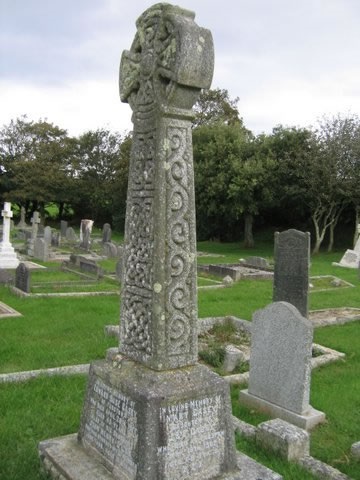 Casey  Memorial, Padstow Cemetery
---