Emigration To Quebec
Padstow's Parish records go back to 1599 and can be viewed on the Cornwall Online Parish Clerk website. Many of Padstow's family trees are mentioned on St Issey Folk. 
On this page we include notes about the emigration through the port of Padstow in 19th century
It is estimated that between 1831 – 1860 over 42,000 Emigrants left Cornwall for North America. 6,198 left Padstow for Quebec and Montreal.  In 1841 Padstow was the third highest English emigrant port for Canada sending 558 emigrants. First was Liverpool with 2,994, Second London 642.  In 1842 1,173 went from Padstow, 1,207 from  Plymouth and 5,823 from Liverpool.
Details are available here: Cornwall opc Canada records
Phil Ellery has also done a lot of research which can be viewed on rootsweb.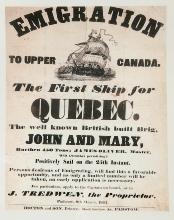 Diary of an Emigrant By George Davey Transcribed by John M. Schoenknech

>> read pdf
For emigration to other countries check out details on the Cornwall opc website.
---