The Wrecking Of The Doris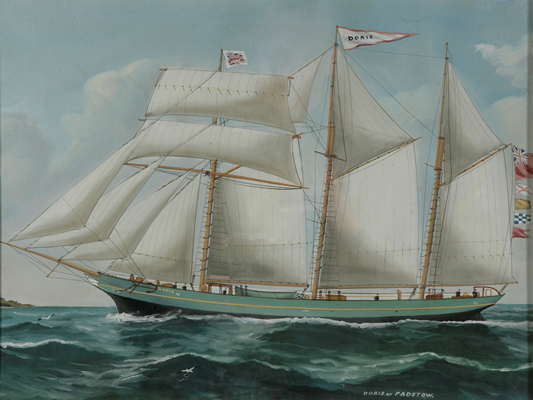 DRAMATIC RESCUE IN HOLLAND 1907.
PADSTOW MAN ERNEST CROWTHER DROWNED SHROEVERS HEROIC EFFORTS SAVE SEAMEN.
SCHOONER DORIS A COMPLETE LOSS. CAPT MAGOR AND ERNEST CADDY SAVED.
All this happened on 14/15th December 1907.  All except Crowthers whose mother and father lived in the White Hart in New St Padstow, managed to cling to the rigging for all of 30 hours while the seas pounded the ship and first the Vlissingen Lifeboat  and then the Schroevers family in their fishing boat 'Five Brothers' attempted to take them off.
The survivors owed their lives to these brave Dutch fishermen.  Jacob Schroevers and his five sons Job,Gerard, Jacob, Klass and Lieven.  A grandson Jacob van de Kettenj aged 13 joined them. 'If Grandad drowns then I drown too' he said.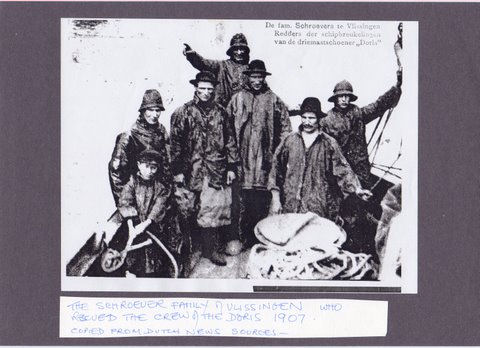 The Schroever Family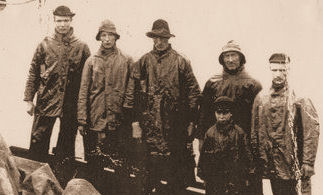 The Survivors Of The Doris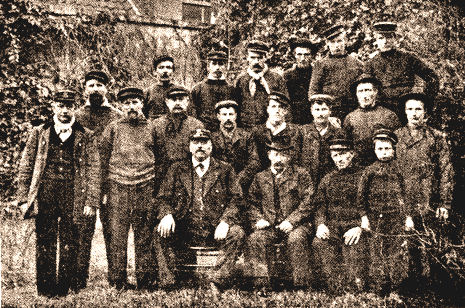 Rescued and Rescuers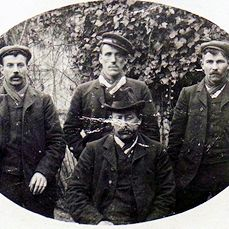 Survivors
The Capt Thomas Magor, Mate Ernest Caddy and the cook who drowned Ernest Crowther all came from Padstow.  The Schooner DORIS was registered here and owned by William Allport (21 shares), Edward Thomas (13 shares), Charles Worden of Wadebridge (8 shares) and six other smallholdings.  She had been built in Appledore. Steel with an elliptical stern by R. Cock and Sons in 1904.
You can see a fine watercolour of the DORIS by Reuben Chappell  in Padstow Museum. Ernest Caddy is the one on the left behind Capt Magor in the small group picture.  The other crew members are according to Dutch sources David Brewhand (or Rowlands) and Peter Johnson. This picture loaned to the museum by Tony Magor of Padstow.  The larger group pictures are of the Shroever family on their own and with the rescued crew and others.
Earlier this month the Schroever family dream was realised and a plaque was unveiled on the sea wall at Vlissingen to commemorate the heroic event.  Cees Schroevers is anxious on behalf of his family to contact as many of the survivors relatives as possible. This can be done through contacting Padstow Museum: enquiries@padstowmuseum.co.uk - tel: (+44) 01841 532752
We are particularly interested in crew members Rowlands (or Brewhand) and Johnson who do not appear to have come from the Padstow Area.  They along with Capt Thomas Magor and First Mate Ernest Caddy all owed their lives to this brave family of Dutch Fishermen.
---